Most of the Library's public events are held in the Milstein Room.
Accessing the Milstein Room
General car parking and blue badge parking are available at the front of the Library.
The Milstein Room can be accessed through the Library's main entrance or via a step-free side entrance.
Using the main entrance, there are six steps down to the Exhibition Centre, with a hand rail on both sides. Due to the conservation controlled environment of the Exhibition Centre, the light in this room is low. The Milstein Room is at the far end of the Exhibition Centre, an approximately 25 metre walk from the entrance of the Exhibition Centre.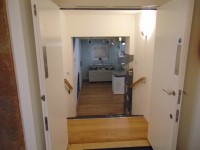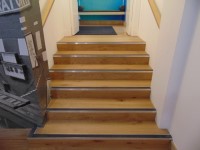 The other, step-free and wheelchair accessible side entrance has:
A ramped/sloped access at this entrance. The ramp/slope gradient is slight.
A bell to call a member of staff to open the side entrance door. The height of the bell/buzzer is 95cm (3ft 1in). There is not an intercom.
There is not a canopy or recess which provides weather protection at this entrance.
The door opens towards you (pull). The door is single (with a locked extension leaf). The door is heavy, but a staff member will open it for you.
The width of the door opening is 85cm (2ft 9in). There is a small lip on the threshold of the entrance, with a height of 2cm or below.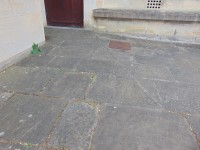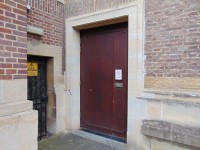 Facilities in the Milstein Room
There is a designated quiet space available on request in advance.
There is basic seating, with lumbar support or foot rests available on request.
The room has a hearing loop.
There is an accessible toilet located off the Exhibition centre, adjacent to the Milstein Room. All genders may use this toilet and it also has a drop down baby changing table.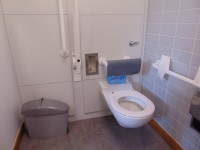 Accessibility of events
The Milstein room has a hearing loop.
Events do not usually have a BSL interpreter and most videos are not audio described.
Where possible, videos have subtitles or closed captions. Please contact disability@lib.cam.ac.uk to check.
Further information
You may find the University Library's AccessAble pages helpful in planning your visit. In particular, the following sections are useful for those attending public events or exhibitions:
Getting here
Building parking
Outside access
Lift (main entrance lift)
Main Reception
Outside Access (Milstein Exhibition Accessible Entrance)
Entrance (Milstein Exhibition Centre)
Museum (Milstein Exhibition Centre)
Accessible Toilet(s) (Milstein Exhibition Centre)